Privata VPN:2021 The best reputation VPN, worth a try


P2P allowed: Yes

Business location: Sweden
Number of servers: 100+

Number of country locations: 55

Cost: $50 per year

VPN protocol: OpenVPN

Data encryption: AES-128-GCM (server-side negotiation can improve to AES-256)

Data authentication: SHA-256 with HMAC

Handshake encryption: TLS-ECDHE-RSA-AES256-GCM-SHA384(AEAD)
Every VPN service under the sun promises fast download speeds, but few can actually guarantee them. One service that truly delivers the goods (at least in our tests) is Sweden-based PrivateVPN. This simple and easy-to-use service has something for everyone.
It offers a high degree of complexity and choice for VPN users who want it, as well as a far simpler interface for those new to VPNs. Beyond speeds, PrivateVPN promises Netflix access in several countries, as well as access to Amazon Prime Video and Hulu.
Note: This review is part of our best VPNs roundup. Go there for details about competing products and how we tested them.
PrivateVPN offers two modes: Simple and Advanced. The simple mode is the first thing that all users see. This interface offers a single-pane window that is not adjustable. It has a drop-down menu and a Connect/Disconnect button, as well as an indicator towards the bottom that shows whether you're connected to the VPN.
Click on the drop-down and you can pick from PrivateVPN's more than 100 servers in 56 different countries. PrivateVPN offers specific servers for Netflix and other specialty services, which are indicated in the drop-down menu. Beyond that, PrivateVPN doesn't offer any other details about its servers. For instance, it would be nice to see information such as ping time for each server from your location, or how close to capacity each location is.
After you've picked the server location you want, click Connect and you'll be up and running. Once you're connected, your new IP is displayed in the middle of the window.
Features and services
If you're a basic VPN user, that's about all you need to know to use PrivateVPN. Experienced users, however, can click the Advanced button in the lower-right corner of the window to see a larger dual-pane interface.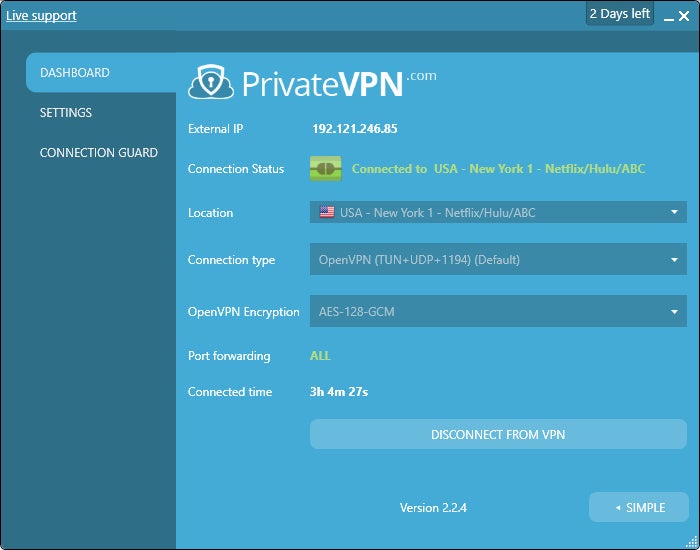 The left-hand rail offers three choices: Dashboard, Settings, and Connection Guard. The Dashboard allows you to pick not only the location, but the type of VPN protocol to use, as well as the level of encryption for OpenVPN.
The Settings section lets you adjust various options, most of which are not enabled by default, such as booting PrivateVPN on system startup, connecting automatically on startup, and reconnecting automatically on connection failure.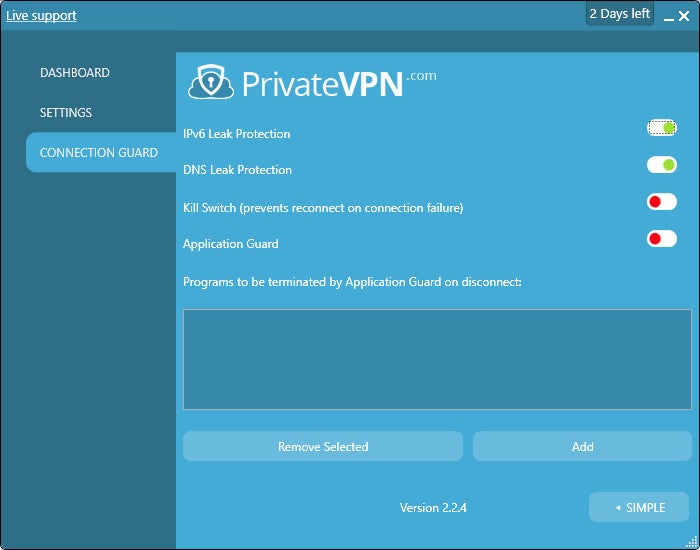 Connection Guard houses options such as IPv6 and DNS leak protection, an internet kill switch (enabled by default), and an application guard that disconnects certain apps when the VPN connection drops.
As for PrivateVPN's Netflix promises, there are servers to access Netflix in the U.S., UK, Canada, Germany, and Italy. All of these options worked as advertised, but as always, this could change at any moment given Netflix's adversarial stance towards VPNs.
PrivateVPN charges $50.40 for 13 months at this writing and allows six simultaneous connections per account. The service offers apps for Windows, Mac, Android, and iOS.
Price and Value for Money
PrivateVPN's pricing plans are very reasonable. There are also great discounts offered on longer plans, which makes this VPN even more affordable.
PrivateVPN keeps its prices down by offering a simple but high performing service rather than trying to expand into every specialty.
All of PrivateVPN's subscription plans include the same premium features and differ only in subscription length.
If you want to try out the service before making a commitment, PrivateVPN offers a 30-day money-back guarantee on all subscription plans.
There is also a 7-day free trial, although it takes some digging to find information about it. To access the free trial, you just need to send a message to customer support requesting one. You'll then receive a gift code that will activate your trial.
Is PrivateVPN Compatible with my Device?
PrivateVPN offers dedicated apps for Windows, Mac, Android, and iOS devices. Manual installation guides are also available for Linux, compatible routers, and Kodi.
The PrivateVPN app is similar across platforms, with the main difference being that PrivateVPN only offers an automatic kill switch in the Windows app. Other platforms don't have a kill switch at all, which is a pretty big downside.
You can also connect up to 6 simultaneous devices with a single subscription, which is great for families or households with multiple devices.
PrivateVPN Customer Service
Although we were pleased overall with PrivateVPN's customer service, we wish that they'd be more clear about their live chat support.
PrivateVPN offers an excellent live chat service, but unlike many of its competitors, this service is not available 24/7. There is no information on PrivateVPN's website about when you can expect the live chat feature to be available.
The first few times we tried to use the live chat service, we were redirected to a blank page with the following image, which linked us to the website's email contact form:
When we tried the next morning, the chat feature was available. This time, we were able to speak with a support agent within minutes of reaching out. We found the live chat support team to be responsive, friendly, and helpful.
Our guess is that the live chat is only available during business hours in Sweden, which is fine. We just would have liked to see this information stated on the website rather than leaving us guessing.
During times when the live chat support is offline, you can still contact support through email or by filling out a contact form on the website.
PrivateVPN's website also has helpful resources like detailed installation guides and an FAQ page.
Even though the installation process is easy, PrivateVPN offers a unique remote help service through TeamViewer.
This feature allows you to give remote control of your device to a PrivateVPN technical support representative, who will install the VPN on your device without any effort on your part. The TeamViewer service can also help you with troubleshooting.
User Experience
One of the best parts of PrivateVPN's service is the app's user-friendly interface.
The app has a unique design. It allows you to choose between a simple mode and an advanced mode with the click of a button.
The simple mode is perfect for VPN beginners or people who like to be able to turn on their VPN without the hassle of advanced configurations.
It displays your connection status, server list, and the option to turn on Stealth VPN mode.