IPVanish review 2021,you have to know

IPVanish offers high-speed connections and an impressive list of advanced security features at a budget-friendly price.
For this review, we put IPVanish through its paces. We thoroughly tested its speed, performance, ease of use, and ability to access popular streaming services like Netflix. The short answer? Yes, IPVanish is able to unblock Netflix. It can also unblock popular services like Vudu, HBO Go, and YouTube.
Keep reading if you want to see what else IPVanish can do for you.
Streaming – Does IPVanish Work with Netflix?
The mark of a truly great VPN is its ability to bypass geo-restrictions and VPN blocks. IPVanish is now able to unblock Netflix US on most servers. I got the fastest connection, and best quality streaming, on its Las Vegas, Dallas, and Chicago servers. I was able to unblock Vudu, ESPN, DAZN, and HBO Go as well as free services like YouTube.
I also tested:
FOX US: 18/18 servers unblock FOX
ABC.com: 0/18 servers unblock ABC
Hotstar India: 1/1 servers unblock Hotstar
BBC iPlayer: 0/4 servers unblock BBC iPlayer
SlingTV: 18/18 servers unblock SlingTV
Overall, I found it frustrating to use IPVanish for streaming, because it couldn't bypass all VPN blocks.
If you're looking for a VPN to stream geoblocked content, you'll be better off with NordVPN. NordVPN can bypass VPN blocks and geoblocks. It also uses SmartPlay technology to automatically switch to the right server, so you don't have to manually change your settings.
IPVanish Speeds
Buffering is an issue for almost everyone. Nobody likes wasting time staring at a screen while a video loads.
When you're connected to a VPN, your connection speed may drop slightly because your data is traveling farther to reach a remote server. However, this speed loss should be barely noticeable.
In fact, if your local network is subject to congestion or ISP throttling, you may even gain speed with a VPN.
Your connection speed is measured based on its ping, download speed, and upload speed.
Its ping indicates how quickly you will get a response from a website once you've sent a request, or clicked on a link. The lower your ping, the faster your connection will response. Ping is measured in milliseconds (ms).
Its download speed measures how quickly you can download information from a server to your device. This will affect your loading times, and the speed at which you can download files from the internet. Download speed is measured in megabits per second (Mbps).
Its upload speed tells us how fast your connection can send data to other devices and websites. It affects how long it takes to upload large files, share photos, and transmit video via video chat. Upload speed is measured in megabits per second (Mbps).
With all of this in mind, I tested my IPVanish connection for speed loss, and I was pleasantly surprised.
My speed before connecting to IPVanish was 12.39 Mbps download, with 0.79 Mbps upload and a ping of 23 ms.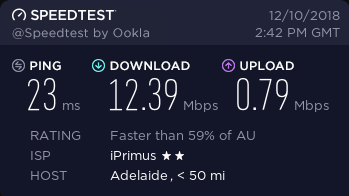 When I connected to my local IPVanish server, my download speed dropped to 8.46 Mbps. My upload speed stayed almost the same at 0.73Mbps, and my ping increased to 58 ms.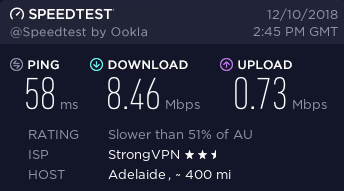 When I connected to an overseas (US) IPVanish server, my download speed decreased again to 7.12 Mbps. My upload speed dropped slightly to 0.71 Mbps. which is still quite fast.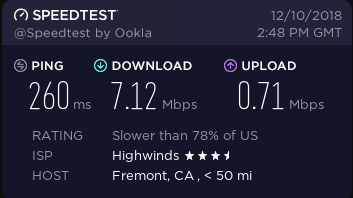 Although my latency suffered a small amount while connected to the US server, it remained within normal limits. I barely noticed any change in loading times while browsing and watching videos.
Is IPVanish Good for Torrenting?
IPVanish allows unlimited P2P connections, so you can torrent safely and anonymously. During testing, I found that my download speeds dropped slightly while torrenting, but the change was barely noticeable.
It even offers 250 GB of secure cloud storage, made available to all subscribers through its partnership with SugarSync. That way you'll be able to backup all your music, work, or movie files.
Pricing
IPVanish is overpriced on any plan except for the month-to-month subscription. Although $10 per month is on the cheap side for a VPN these days, IPVanish's yearly VPN subscription is just this side of gouging, given how much you can save on an annual plan with some of our favorite VPN services, such as ExpressVPN.
There's also no free plan. If that's what you're looking for, see our list of the best free VPNs, or read our Windscribe review to learn about our favorite free VPN.
IPVanish Monthly

Details: $4.99 for the first month
Bandwidth: Unlimited GB
Included Devices: 10

IPVanish Yearly

Details: $39.99 for the first year
Bandwidth: Unlimited GB
Included Devices: 10

1-year plan

$ 

6.67

/ month

$79.99 billed every year
Signing up for any IPVanish plan gets you access to the entire feature set, including unlimited bandwidth and the freedom to use the VPN on 10 devices. (IPVanish earned a spot in our best VPN for multiple devices guide because of that second feature.) There's no free trial available, but all plans come with a 30-day money-back guarantee.
Other than the monthly plan, IPVanish offers an awkward three-month subscription, a commitment that will save you exactly three dollars. There's no level above the yearly plan, so that's the best deal you'll get with this VPN.
It's that yearly plan, at $6.49 per month, that really sets our teeth on edge. You can get 15 months of ExpressVPN for almost exactly the same price, and ExpressVPN is an objectively superior VPN service. We know because we set these VPNs head-to-head; you can read our ExpressVPN vs IPVanish showdown for the details.
If you're on a budget, you can get a perfectly good VPN like Private Internet Access (see our PIA review) for half the monthly price of IPVanish. To charge this much, a VPN needs to be near-flawless, and IPVanish is not.
The payment methods that IPVanish offers are also scant. IPVanish accepts PayPal and most major credit cards, but that's it: no wire transfers, cryptocurrency or secure cash options.